✿ Letter pads ✿ Papeterie féerique
This content will be shown before all post
Fairy Stationery – Fairy art & fantasy art letter pads

keywords: Letter pads, stationery, stationary, letter pads, fairy stationery, stationery fairy, fairy art stationary, Custom Stationery, fine stationery
Fairy art  letter pads
 [en] Fairy Art Letter Pads. The fairy art letter pads come with a beautiful illustrated soft cover and a plain thick back cover for easy writing. They include 20 sheets of standard A4 sized paper and 5 DL sized envelopes. All fairy art and fantasy art Letter Pads and Envelopes are printed on full vibrant colours. They are sold in a beautiful package with a matching organza ribbon and a flower.
Do you like these fairy letter pads ? You can purchase them here: Fairy stationery
[fr] Blocs de correspondance feeriques en format A4 et 5 enveloppes, taille DL. Ils sont toutes basées sur mon art féerique. Il s'agit de blocs limités!  Les  pages de blocs ainsi que les enveloppes sont illustrées avec des dessins de fées et elfes. La couverture  est illustrée aussi!  Touts les blocs sont fabriquées en France.
Ces papiers à lettre féeriques sont vraiment magnifiques, de très haute qualité!  Les blocs avec les enveloppes sont emballés dans une pochette plastique écologique avec une ruban et une jolie ptite fleur.
Decouvrir toute la gamme sur la boutique féerique!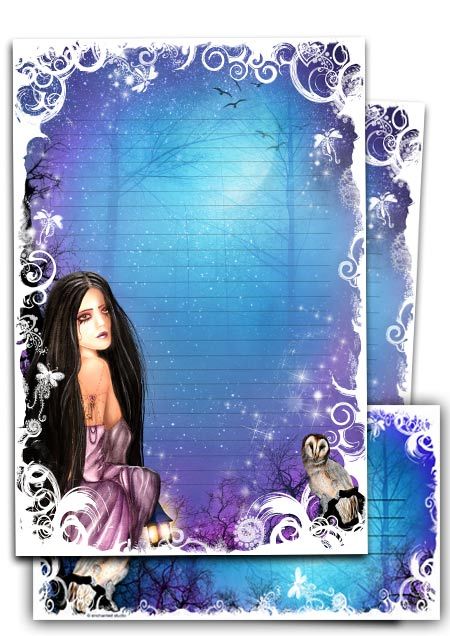 This content will be shown after all post
You may also like - Vous pouvez aussi aimer : :